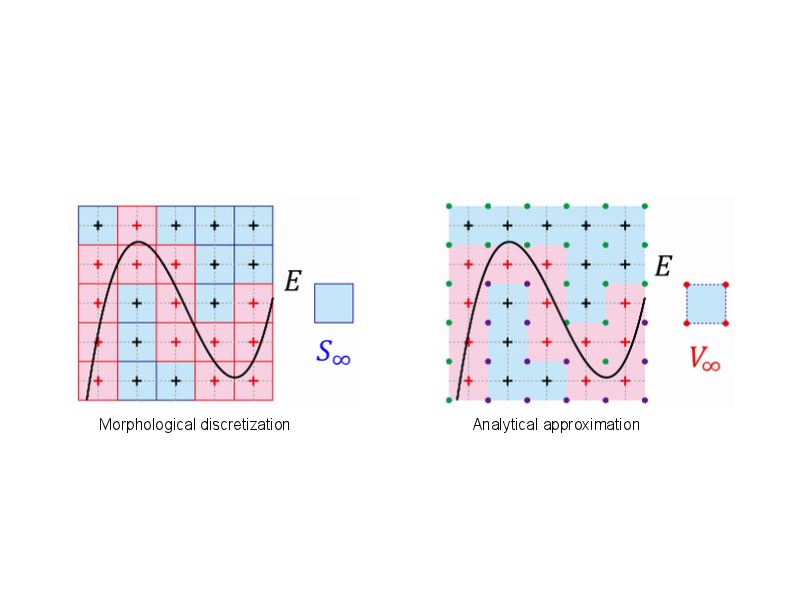 On connectivity of discretized 2D explicit curve
Preserving connectivity is an important property commonly required for object discretization. Connectivity of a discretized object differs depending on how to discretize its original object. The morphological discretization is known to be capable of controlling the connectivity of a discretized object, by selecting appropriate structuring elements. The analytical approximation, which approximates the morphological discretization by a finite number of inequalities, on the other hand, is recently introduced to reduce the computational cost required for the morphological discretization. However, whether this approximate discretization has the same connectivity that the morphological discretization has is yet to be investigated. In this paper, we study the connectivity relationship between the morphological discretization and the analytical approximation, focusing on 2D explicit curves. We show that they guarantee the same connectivity for 2D explicit curves.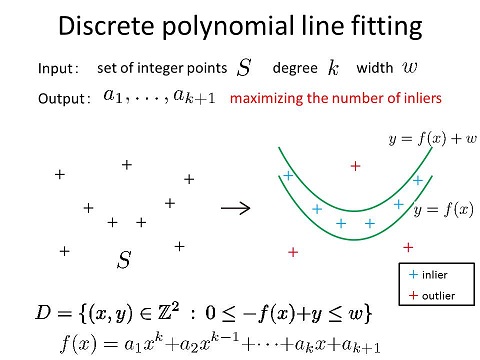 Discrete Polynomial Curve Fitting to Noisy Data
A discrete polynomial curve is defined as a set of points lying between two polynomial curves. This paper deals with the problem of fitting a discrete polynomial curve to given integer points in the presence of outliers. We formulate the problem as a discrete optimization problem in which the number of points included in the discrete polynomial curve, i.e., the number of inliers, is maximized. We then propose a method that effectively achieves a solution guaranteeing local maximality by using a local search, called rock climging, with a seed obtained by RANSAC. Experimental results demonstrate the effectiveness of our proposed method.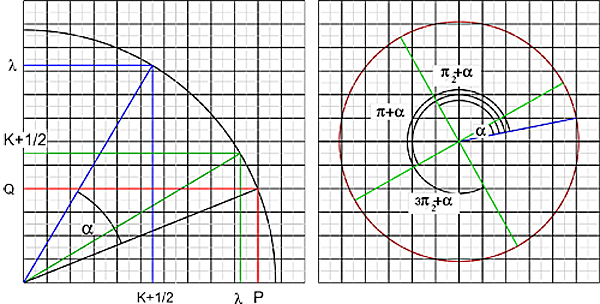 Efficiently Computing Discrete Rotations
The technology for reconstructing three-dimensional images has made remarkable progress. However, an important issue still remains, that is, guaranteeing accuracy concerning reconstructed three-dimensional images. A tremendous amount of efforts have been made to deal with noise and to show the robustness of developed methods. In such studies, however, digitization errors and observation errors are not discriminated in spite that the two kinds are generated in different mechanisms.
We aim at discriminating the two kinds of errors, focusing on pixels/grid-points as the smallest unit of digital images, in order to clarify the limitation of accuracy in 3D reconstruction due to digitization errors.
Rotations in the discrete plane are important for many applications such as image matching or synthesizing mosaic images. Differently from rotations in the continuous plane, rotations in the discrete plane by two different angles can give the same result. Namely, two different angles give the same result after the rotation of a grid point followed by digitization. Generally a range of rotation angles exists in which the same result is obtained after the rotation. We have proposed a method for effectively finding the exact lower and upper bounds of this range using integer computations alone.
References:
Computing Upper and Lower Bounds of Rotation Angles from Digital Images PDF
Y. Thibault, Y. Kenmochi and A. Sugimoto

Pattern Recognition,

Vol. 42, No. 8, pp. 1708--1717, 2009.